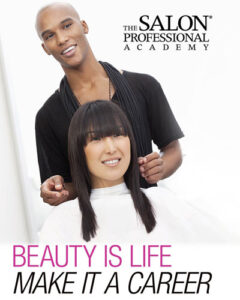 We're kicking off March with a bang! Starting March 2nd, we're offering a BOGO 50%
sale not only for all available retail, but for services as well! On top of that, if you
pre-book for your next appointment, you'll receive an additional $3 off your service. This
promotion will continue throughout the month, ending Wednesday the 31st.
We also want to welcome any prospects for another Open House! On Tuesday March
9th, from 3 to 5, you're invited to our "In The Future" Event where you can learn all there
is to know about your career possibilities in the field of beauty. Not only are there door
prizes, swag bags, hands-on makeup and hair color clinics, but you will also be the
judge of an UPDO contest!
To register, send a request to admissions@tspaftmyers.com, or, to learn
information about our programs, visit us at www.tspaftmyers.com. Registration ends
March 5th, so secure your spot as soon as possible! Stay posted on our social media
sites such as Instagram and Facebook for information on all future events!
There are three spots available for our upcoming March 15th Cosmetology class, and
four spots left for our March 16th Esthetics class. If you are interested in kicking off your
career as soon as possible, reach out to either admissions@tspaftmyers.com or by
calling our admissions department at (239) 208-3958. We would love to schedule you in
for a tour of our facility, have you meet our wonderful admissions and financial aid
departments, and have you become a part of the TSPA family! We look forward to
hearing from you!