"do you want to own your own salon someday?"
As a young stylist out of school, the above question was what I always got from my clients. So many people asked me that same question, so I wondered if thats what everyone wanted or expected as a licensed cosmetologist or esthetician??? After 20 years in the industry, I have found that not everyone wants to, or is cut out to own their own salon or spa.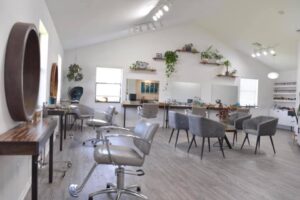 Owning a salon
Owning a salon/spa is one of the most popular options for licensed cosmetologists and estheticians, as they become deeply rooted in their community, some dream of having their own brand identity & team, or in hopes of making a lot of money. No doubt if its done correctly with the right people, owning a business can be very lucrative and rewarding. However, EVERY salon owner has told me that the biggest challenge is always managing people, whether it be staff members or clients. Attitude, motivation, letting people go/walk outs, & quality control comes to mind when thinking about managing emotional human beings. If you are great with people management, not afraid of confrontation, great with money, and have the strength to stand up for the business instead of letting emotions get to you, you are possibly born to own a salon or spa.
Suite or Chair Rental
Renting a suite, or chair, have become a very popular choice among stylists that want the independence of owning a business but not wanting to deal with staff or a team. Sounds awesome, HOWEVER, there are several things to consider before you take on this option;
First thing to look at is Overhead- retail products, back bar products, inventory (for example for a stylist: permanent 

and demi haircolor, perm, lighteners, foils, color bowls, brushes, capes, etc). That is A LOT of stuff to purchase before you can open the doors, along with furniture, refreshments, and your own tools that are used daily. This is even before considering rent, bills, and salon booking programs/services, to keep it running consistently month to month.
Second thing to consider is that you will be working ALONE without a team to support, help, and care for you. You may possibly have an assistant, but they will soon move on as well. I work best with a team that gets along, has respect for each other, and is willing to help out no matter what. I was in a suite rental for 4 years before moving to NYC, and the part I missed the most was working with a team.
Last but not least, lets talk Money. Did I make more money than when I was at a commission salon? Yes, I did. Did I have so much work that it was hard to keep up with paperwork and business planning? Also yes. I've had to pay stupid fines and penalties for things not paid or taken care of because I "forgot", and lost a lot of business from being overwhelmed with "front desk duties" that i didn't account for, which is crucial in business building.
SO, at the end of the day, is suite rental a great option? Absolutely, if you are prepared with everything mentioned above, and you have a super steady clientele (because you will lose 30% of your business no matter what when you move). If you are new or building your clientele, jumping into rental or suite could be detrimental, as you don't have the steady flow of income yet, and still understanding and learning how to run a successful business and how the industry works.
What about commission?
Working as a stylist behind the chair, or as an esthetician, doesn't get the credit it always deserves. It aggravates me when people don't consider it as a career, and take this lightly. With determination, motivation, skill set, proper use of associates/assistants, and lots of effort, there is no reason one couldn't have financial success. I know plenty of stylists that make 6 figures by working as a stylist with no ownership, and LOVE not having to deal with the management of the salon/spa.
At the end of the day, I believe we are all here to contribute in different ways. None of us have to do the same things as others, and just do it our own way. When it comes to planning your future and financial freedom, we would like to advise you to always carefully choose your options. Reach out to salon owners, suite renters, and find out what works for them and what doesn't. Whatever career path you choose, we will always be cheering you on!!
Thanks for reading. Till next time
With much love,
Ty Isobe