When looking for a skincare program in the Fort Myers or Naples area, look no further than The Salon Professional Academy Ft Myers! Our Esthetics program is running super hot, and with full enrollment. There has been a surge of Esthetics students recently, and we are so excited to offer new & updated trainings and services to our students.
Classroom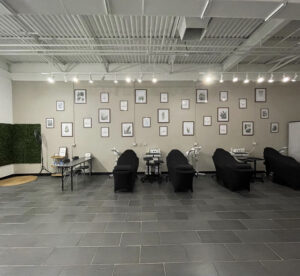 You've gotta come see! Our facial room recently got a little facelift! The room has a nice open feel with positive vibes, clean and simple. Our new backdrop with Dermalogica banner is perfect for showcasing our students work on social media. We are very proud to be offering Dermalogica products and services, as they are one of the premier brands that work with customization for different skin types and regimens. Just like our students and their education, it's not a one size fits all situation.
Updated Services and Training
Just like any industry with technological advances, our industry rapidly changes every day. So we believe it is our duty to stay on top of those advances. Recently we have added LED Light Therapy, High Frequency Wand, and Microdermabrasion Machine to our program. For example, High Frequency is an incredible add on to your facial appointment. It increases oxygen to the skin to improve overall texture, tone, and glow to help treat acne problems. Would have been awesome to have that 30 years ago!! Come see us for a tour, but I also recommend making an appointment with one of our esthetics students to get a feel of what is involved in skincare services.
Partner Spa and Salons
We have quite a gathering for our career fair, which is an opportunity for our students to meet the local salon and spa owners. We have them go through an interview speed dating style so they can get a feel for each other. A lot of our students have gone on to find their next work through this career fair. We believe that Esthetics and Cosmetology training doesn't end at school, rather it continues throughout your career. Our partner salons and spas have that same mindset and help grow their team, instead of expecting them to know everything.
When you are searching for a Beauty School, Cosmetology School, Esthetics School, Skincare Program or Training, whatever you might want to call it, we would love to be the home for your education. Please contact us at admissions@tspaftmyers.com or call Brittany at (239)208-3958.
Till next blog!
with much Love,
Ty Isobe
Please reach out to admissions@tspaftmyers.com for any questions about our programs, or to book a tour.
For information on scholarship opportunities follow this link https://www.tspaftmyers.com/scholarships/
For information on Financial Aid follow this link https://www.tspaftmyers.com/financial-aid/